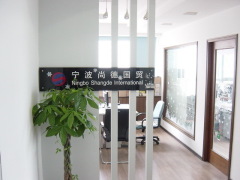 Ningbo Shangde International Trading Co., Ltd. is a leading manufacturer and exporter of a variety of quality smoking pipes, smoking paraphernalia, smoking accessories such as herb grinder, metal pipe, novelty pipe, snuff pipe, vaporizer, hookah, shisha, bong parts, pipe cleaners, smoking tools, screen, filter tip and so on, located in Ningbo City, Zhejiang Province of China. Ningbo Port has routes to any main ports around the world. Transportation by sea or by air is very convenient. Ningbo with its surrounding area has the most developed manufacturing industry.

Our company was founded in 1999. We have excellent manufacturing technique, strong sprit of innovation, powerful quality-control methods, reasonable prices and good service, which won a good reputation among customers.

All of our products are for export. The market mainly contains North America, Western Europe, Eastern Europe and Mid East.

We have our own factory and OEM is warmly welcomed.

If you have any question, please contact us without any hesitation.